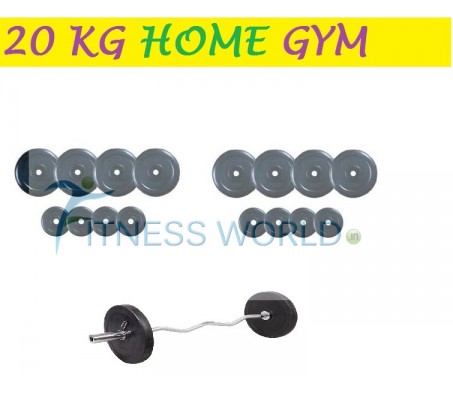 20 KG Home Gym Package, Rubber Plates + Bicep / Tricep Rod
Brand: FRIENDS
Product Code: 0021
Availability: In Stock

HOME GYM FOR BEGINERRS & YOUNG BIRDS.
FEEL THE PAIN OF WEIGHT TRAINING WITH FITNESS WORLD EQUIPMENTS
20 KG Rubber Home Gym Sets.
20 KG Rubber Weight Plates + 1 ROD.
Specfications Of the Dumbells Sets -:
Rubber Weight Plates Along with Bush Fitted.
Black Color Rubber Weight Plates.
Unbreakables.
Easy to operate.
Easyo to Adjust.
Solid Chrome Plated 3 Ft Bicep / Tricep CURL Bar.
Locks for the bar
Easy to Use.
Easy to Storage.
User Friendly Dumbells.
PACKAGE INCLUDES -:
4 PCS X 2 KG RUBBER WEIGHT PLATES.
4 PCS X 3 KG RUBBER WEIGHT PLATES.
1 PCS X 3 FT SOLID 3 FT CURL BAR
+
2 NO X LOCKS.
TOTAL = 20 KG RUBBER WEIGHT PLATES.
Note -: If you want to change the configrations of the weight plates sizes then mark us a mail along with your placed order or contact our Customer Support.
Write a review
Note: HTML is not translated!
Rating: Bad Good
Enter the code in the box below: