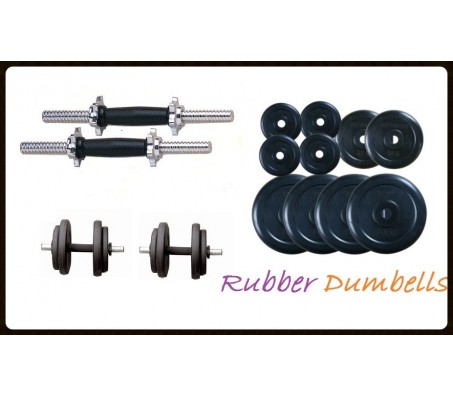 10 KG Rubber Dumbells Sets. Rubber Plates + Dumbells Rods.
Product Code: 0010
Availability: In Stock

FEEL THE PAIN OF WEIGHT TRAINING WITH FITNESS WORLD EQUIPMENTS
ADJUSTABLE DUMBELLS SETS.
10 KG Rubber Dumbells Sets.
10 KG Rubber Weight Plates + 2 PCS Dumbells Rods 14"
Specfications Of the Dumbells Sets -:
Rubber Weight Plates Along with Bush Fitted.
Black Color Rubber Weight Plates.
Unbreakables.
Easy to operate.
Easyo to Adjust.
Solid Chrome Plated Dumbells Rods 14" Along With Star Nut
Rubber Grip Fitted in the Dumbells Rods For Extra Grip.
Easy to Use.
Easy to Storage.
User Friendly Dumbells.
DEALS INCLUDES -:
4 PCS X 2.5 KG RUBBER WEIGHT PLATES.
2 PCS X 14" DUMBELLS RODS STAR NUT ALONG WITH RUBBER GRIP.
TOTAL = 10 KG RUBBER WEIGHT PLATES.
Note -: If you want to change the configrations of the weight plates sizes then mark us a mail along with your placed order or contact our Customer Support.
Write a review
Note: HTML is not translated!
Rating: Bad Good
Enter the code in the box below: